Story
Building an Industry of the Future from Treasures of the Past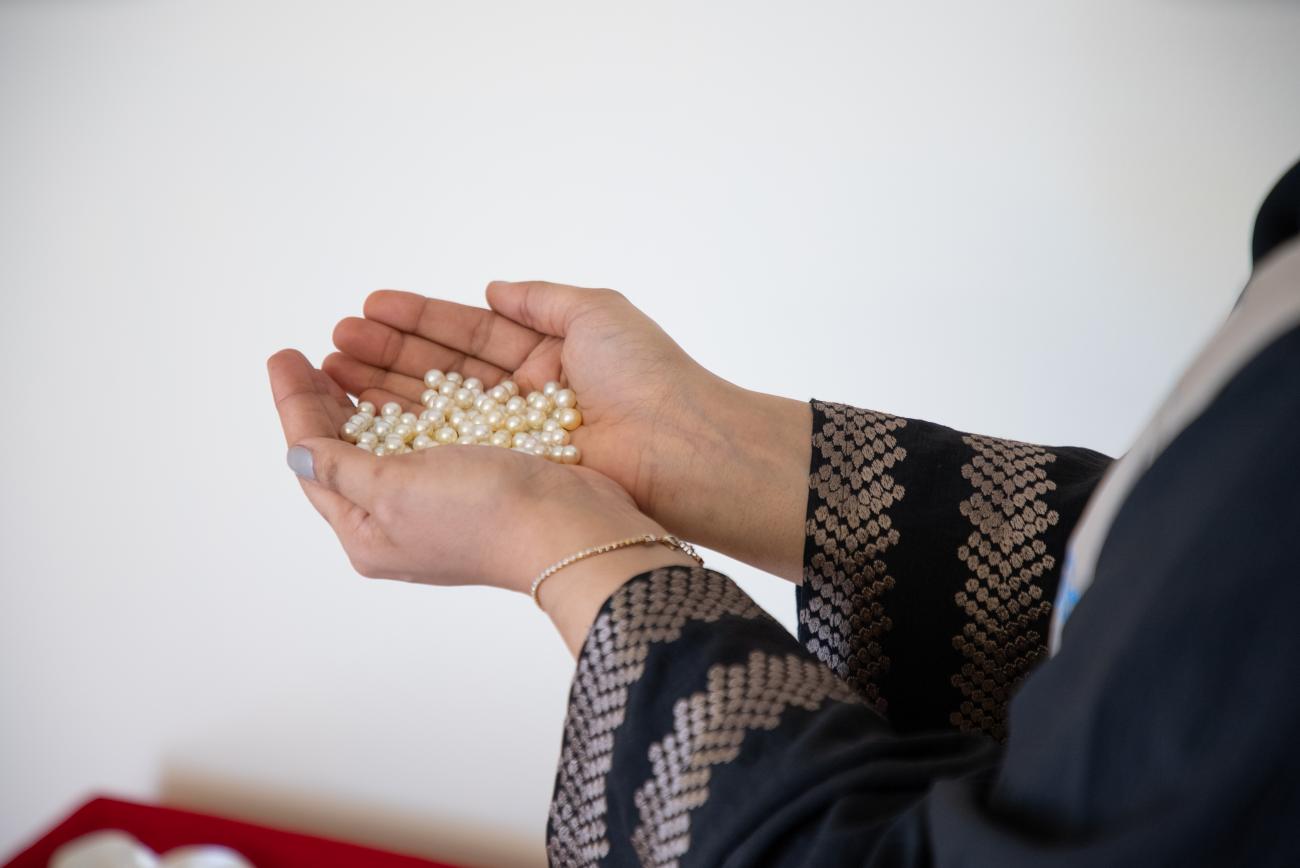 With FAO support, the United Arab Emirates revives its pearling past through sustainable aquaculture practices
Original story published by FAO
When an 8,000-year-old pearl was identified as the oldest ever found, it made global headlines. The natural pearl was found in 2019 during archaeological excavations at Marawah Island in Abu Dhabi, one of the United Arab Emirates (UAE).
The pearl industry was once the cornerstone of the UAE's economy, when the nation's pearl divers used to plunge to depths of up to 20 meters to harvest the precious gems. But during the 20th century, the industry was overtaken by the oil boom and pearl diving almost disappeared altogether.
The UAE's Environment Agency in Abu Dhabi (EAD) is partnering with FAO to revive the Emirate's pearl industry in the warm waters of the Arabian Gulf. It is part of a broader collaboration between FAO and the UAE's Ministry of Climate Change and Environment that focuses on introducing sustainable aquaculture and building a sector that creates jobs, protects the environment and supports livelihoods in the long-term.
Ahmed Esmaeil Alhashmi, Executive Director of EAD's Terrestrial and Marine Biodiversity Sector, said: "Pearl diving was once a risky profession but provided seasonal employment and an opportunity for wealth and prosperity. It was never merely a trade or a means of subsistence, but an entirely integrated social system which has nurtured a rich heritage of traditions. EAD has now found a method to revive Abu Dhabi's pearling past through sustainable modern practices."
In addition, FAO is working with the UAE to build a sustainable aquaculture sector that can contribute to food security, promote education about the environment and build a future for young people. It also sees potential for eco-tourism.
"It is about recognizing the country's cultural heritage and introducing new farming technologies such as fish cage aquaculture or the production of aquatic organisms that do not need to be fed, like oysters or seaweed, and are adapted to the specific conditions of the waters along the Abu Dhabi coast," said Lionel Dabbadie, FAO Senior Aquaculture and Fishery Officer.

Since 2019, FAO has been assisting the government to develop a sustainable aquaculture sector in the Gulf to boost food production, nutrition and income. With this goal in mind, the UAE's Ministry of Climate Change and Environment asked FAO to conduct a detailed analysis of its coastline, identifying and mapping areas where aquaculture, including oyster and pearl cultivation, could be practiced sustainably.
"Like many other marine resources, natural oyster beds have suffered from overexploitation and habitat destruction. The UAE's strategy is designed to protect the ecosystem so it can recover, while simultaneously developing sustainable farming to make a shift from wild capture to an aquaculture activity," added Dabbadie. FAO is working to support this strategy and maximize the sustainable development along the coast of the UAE.
Dabbadie said, "For areas with deep water we are recommending cage aquaculture, but for shallow areas we recommend the cultivation of seaweed, sea cucumbers or shellfish like the pearl oysters."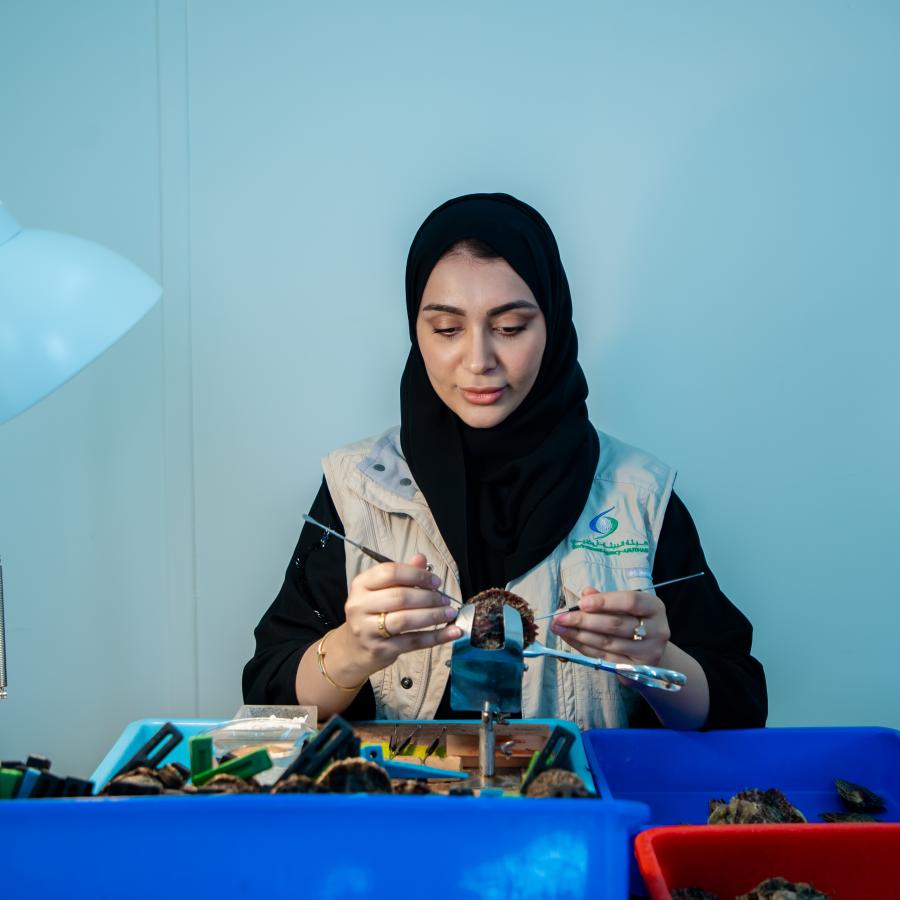 How the magic happens
Pearl oysters are broadcast spawners. They release their eggs and sperm into open water where fertilization occurs. Of the millions of fertilized eggs (spat), only a few successfully settle on suitable surfaces and grow into adult oysters, while the rest are either consumed by predators or never find a proper surface on which to settle. This is when EAD sends out floating ropes at sea to collect the pearl oyster spat that would otherwise not find a place to settle. The spat collectors are left out at sea for a period of one year, after which the young oysters are collected and taken to the project's site for further growth.
When the oysters reach two years, a small piece of oyster, known as a nucleus or shell bead, is grafted onto the oyster flesh to induce pearl production. Then the oysters are returned to the culture site to continue growing for another two years.
After they are harvested, the pearls are classified according to their lustre, colour, shape and size. Around 20 000 cultured pearls are produced annually at Al-Dhafra, the site of Abu Dhabi Pearls Project, but there are plans to up this number to around 25 000 pearls a year. This would also increase the number of jobs, especially for women and young people.
EAD is also collaborating with the College of Arts and Creative Industries at Zayed University to promote the design of jewellery using pearls from the project and involve students in the jewellery production.
Ultimately the project has plans to become a destination for eco-tourism that highlights the traditions and heritage associated with pearl diving and the modern technologies being used to promote sustainable pearl farming.
With technical support from FAO, the UAE's investment in modern technologies, such as Recirculated Aquaculture Systems, is helping build a sustainable and profitable aquaculture sector that will create jobs, while protecting the environment and keeping heritage alive.
Learn more
UN entities involved in this initiative
FAO
Food and Agriculture Organization of the United Nations